If you are looking for the best bonus for The Plan,
You've come to the right place!
Before I get to the bonuses, I need to tell you a bit about myself and why I am in a unique position to be able to offer the bonuses listed on this page.
Here's my story. I am one of the founding members / early adopters (pre beta 1) of The Plan back when Dan was still doing 1-1 coaching calls (Dan doesn't do these anymore). This was back in May 2021.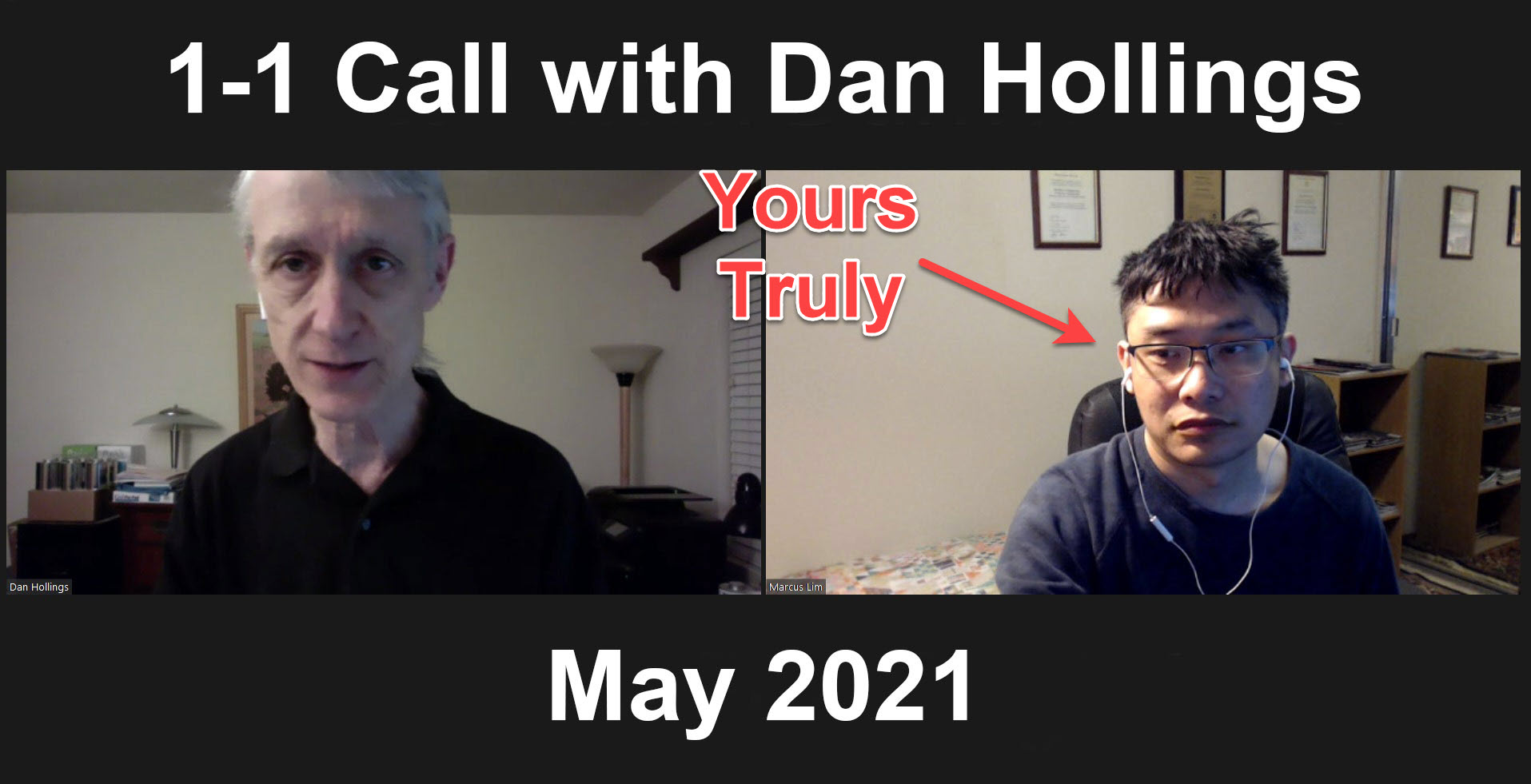 This means I've been in The Plan for longer than anyone (except those in Dan's innermost circle), so I can show you results a couple months into The Plan. In addition, I am also in a private Skype group with Dan Hollings himself along with the other 10 or so pre-beta 1 members. Indeed, to this very day, the group is still active and Dan is constantly updating us on new developments before they get announced publicly.
What this means is that I can genuinely say that my bonuses are one-of-a-kind, and here they are:

These bonuses are not available from anyone else. In order to get them, you must join through my link. Once the countdown timer hits zero, these bonuses go away.
Bonus 1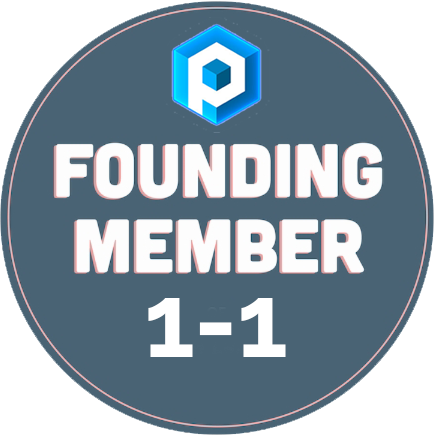 The Plan $10k Founding Member Experience
Here's the deal. As an early adopter, I had the privilege of getting on a one-on-one call with Dan Hollings so I could learn The Plan from the man himself.
Here's what I posted immediately after the session: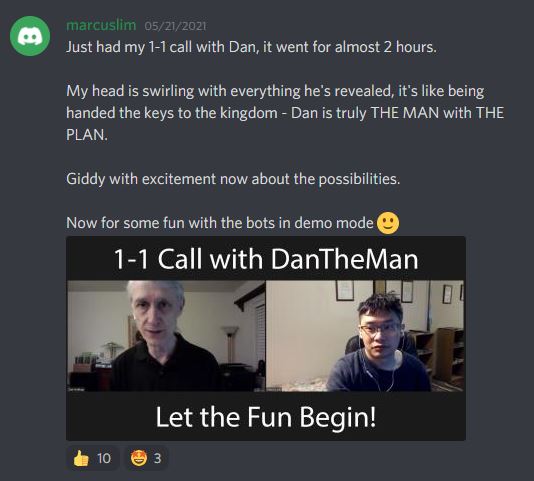 Yes, my mind was indeed swirling with all the information dump from Dan the man in just less than 2 hours...
See, it wasn't polished. It was simply Dan telling me everything he had learnt up to that point in time - raw, unedited. It was his way of getting the information out as quickly as he could.
Then a few days later, I got to get on another 40-minute one-on-one Zoom call with Dan, and had the privilege of having him set up my live bots.
Lucky for you, I managed to record and save both these sessions.
At long last, I am making these rare recordings available as part of this exclusive bonus package that will never be available anywhere else.
And yes, at the time the price of admission was $10k so when I say this is a $10k experience, I'm not exaggerating! Think about it, your investment in The Plan is a fraction of what I had to pay :-)
Click below to watch the first 10 minutes.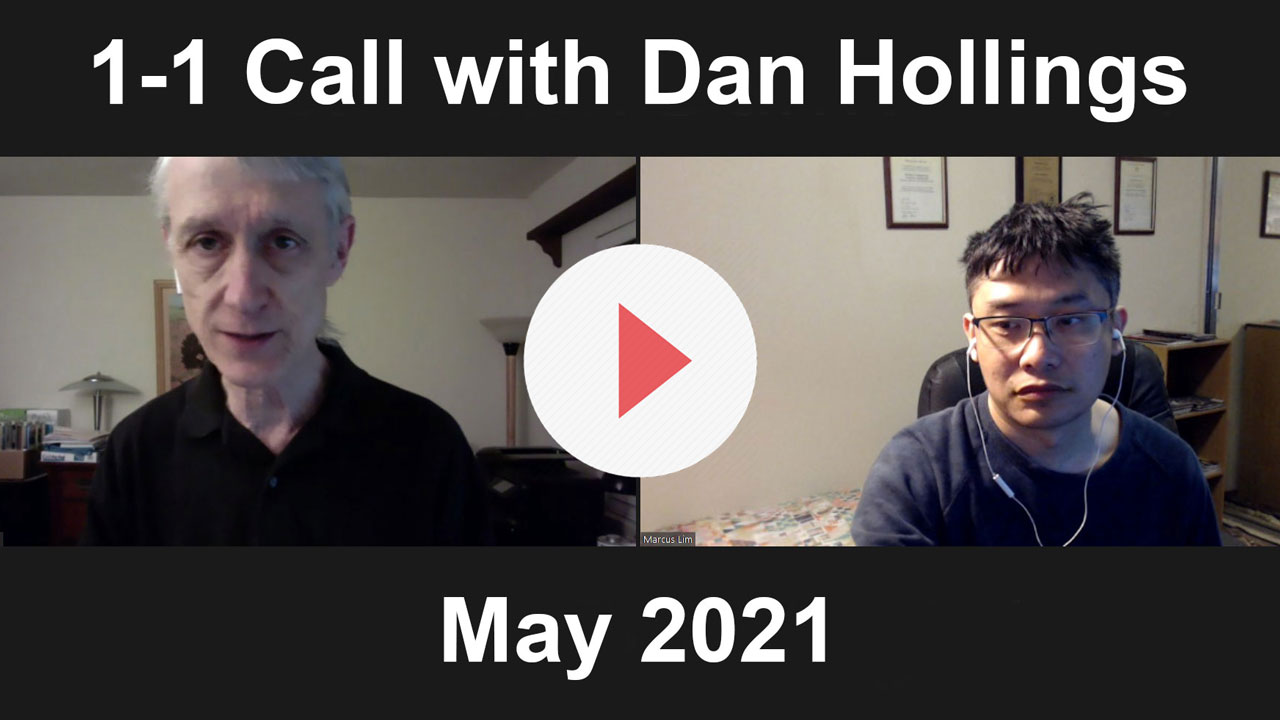 Click below for an excerpt from the 1-1 bot setup call.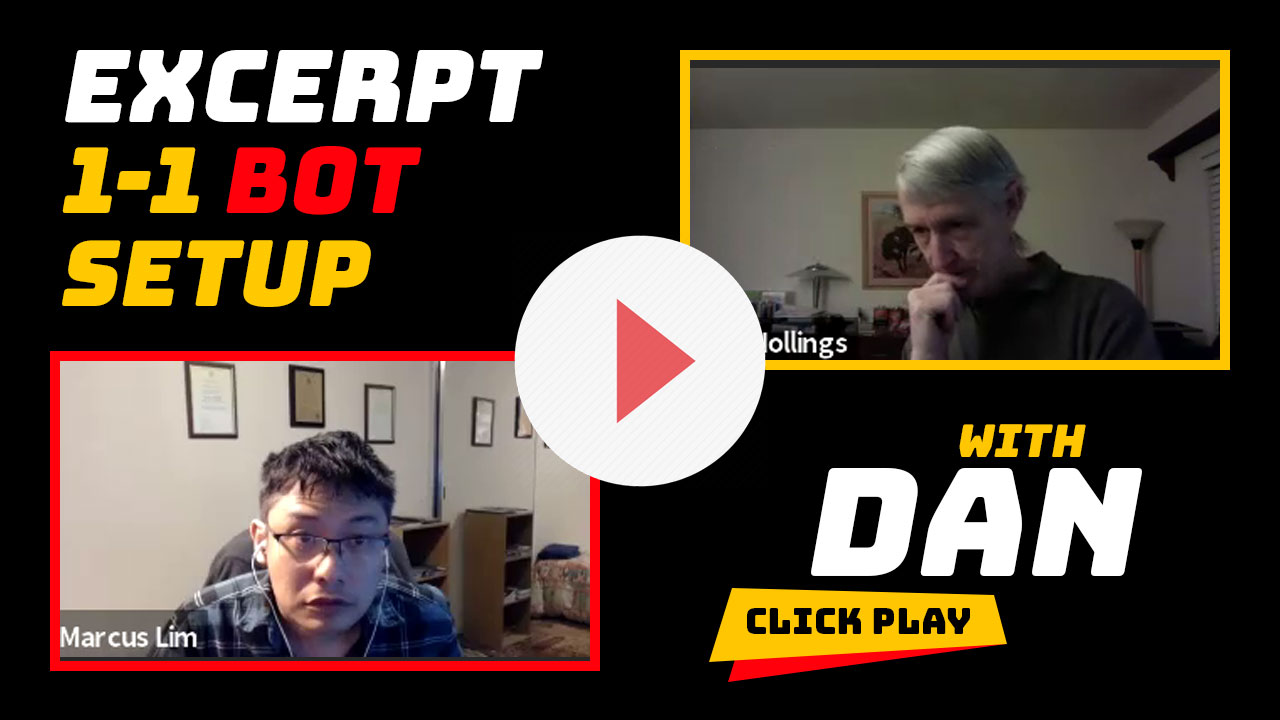 Needless to say, you will never get an opportunity like this ever again because Dan will never do one-on-one coaching anymore. This is your second best opportunity to experience The Plan through my eyes with personal coaching from Dan Hollings.
Cliff's notes version of The Plan with just the bare essentials and none of the frills. Great for review to grasp the most important stuff or if you want to fast track your learning.

You will see how the bots are set up following the lessons in The Plan applied to a live account with real money invested into the bots.

Witness a ninja bot setup not covered in Phase 1 - this is advanced so I do call it out so you won't get confused - only follow it when you are ready.

As close to a "front row seat" over the shoulder experience of The Plan with "Dan the man" as you are ever going to get!

Own a rare piece of history - this is where The Plan got started!
Very important - I am not in any way saying that these 1-1 recordings are a replacement for The Plan in its current state which has been carefully structured over 6 comprehensive sessions, even though it is possible to learn about The Plan to get started in less than 2 hours. Think of this 1-1 call from May 2021 as an 'accelerated' track that gets you up to speed and have your first demo bot running in just under 2 hours. If you are a fast learner who wants to learn fast and implement fast, this is it.
Real World Value: $10000
(Because this is how much early adopters had to pay!)
Note: This bonus will be made available to you after you purchase and sign the NDA. It will be made available in a special Bonus members area, which you will receive access to via email within 24 hours of signing the NDA.
---
Bonus 2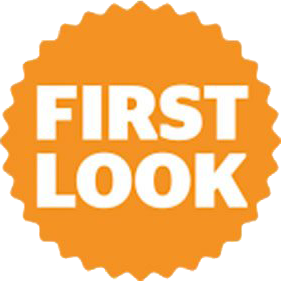 The Plan Phase 4 First Look Bonus
Firstly watch the trailer video below to understand what phase 4 is all about.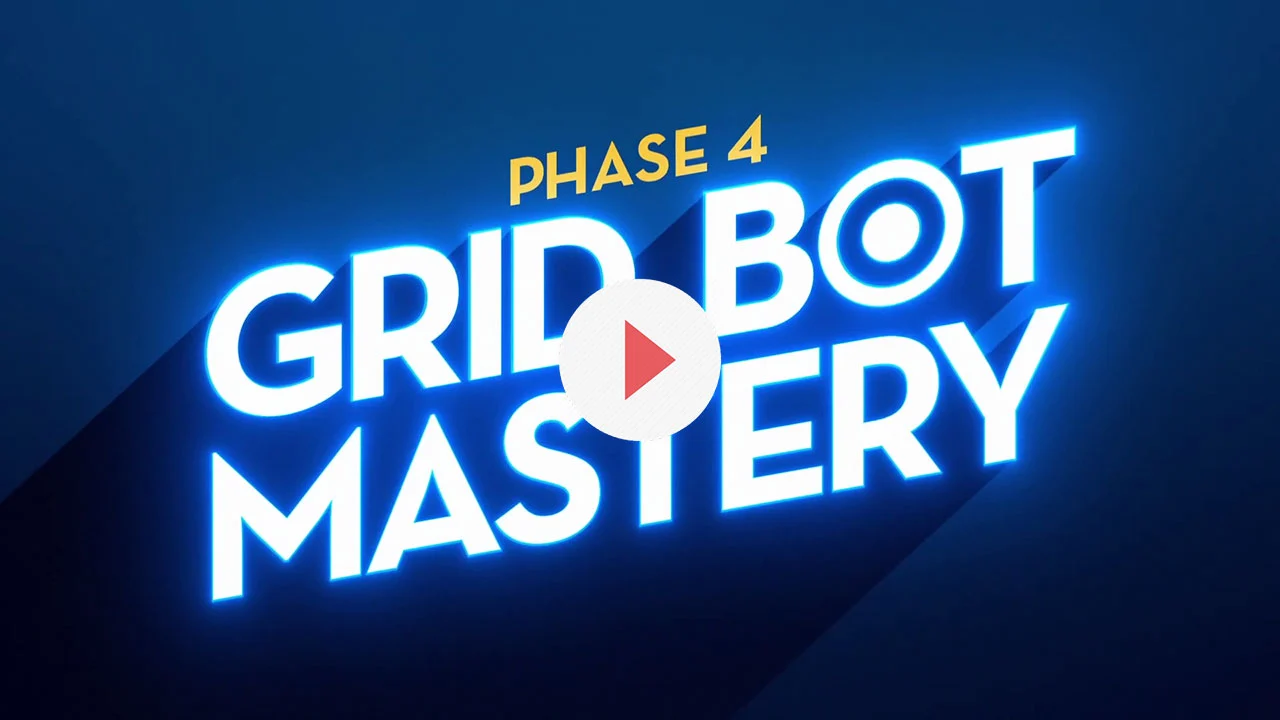 In summary, Dan will teach you advanced grid bot strategies including:
Leveraged tokens to triple your profits.

Protect your profits if your gains are above 40%.

Scavenge extra money from your bots to start another one.

Avoid hidden traps when swapping stable coins.

Flip the chart to turn a bear market into a bull market.
The good news is that this phase is completely free for all members of The Plan phase 1.
However, you will not get access to it immediately. You are expected to complete phase 1 first before you get access. This is because you need to get the fundamentals down before playing with these more advanced strategies - don't play with fire until you are ready!
That said, if you simply cannot wait, or if you are the type who will push your way through phase 1 in no time flat, then I've got a 'first look' at phase 4 bonus for you.
You see, as an early adopter of The Plan, Dan held a special group call just for our early adopter group, and during a very intense 3 hour session, he spelt out all of these advanced strategies in one sitting. It was like drinking from a water hose lol
So here's the deal. I am now making available this top-secret closed-doors recording to anyone who purchases The Plan through my link and signs the NDA. Check out an excerpt below.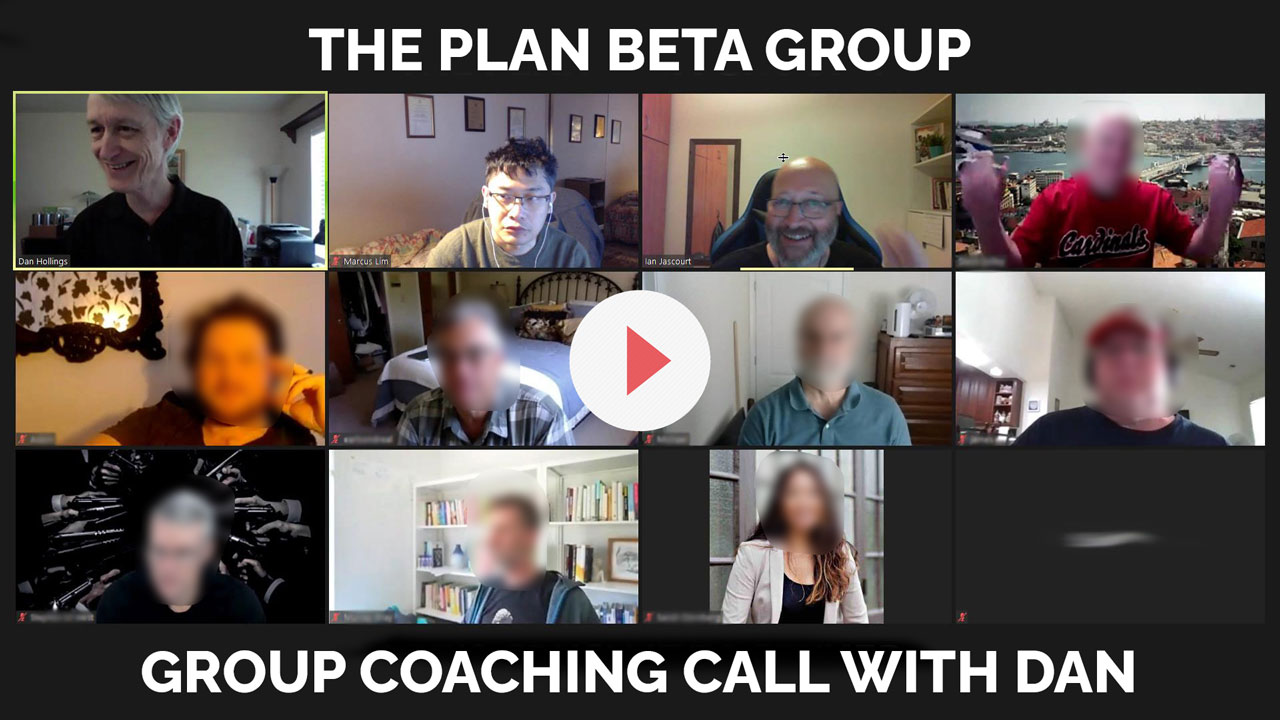 Needless to say, you will not find this bonus anywhere else. Not only will you get a head start over others, you will also get to experience the advanced strategies of Phase 4 in its raw unpolished form, in the way it was originally taught.
Very important - I am not in any way saying that this group coaching call is a replacement for The Plan Phase 4 which has been carefully structured for your benefit. Think of this group call from June 2021 as an 'accelerated' track that Dan calls a 'heavy duty brain dump'. If you are a fast learner who wants to get the info fast, this is it.
Note: This bonus will be made available to you after you purchase and sign the NDA. It will be made available in a special Bonus members area, which you will receive access to via email within 24 hours of signing the NDA.
---
Bonus 3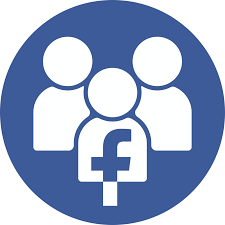 Private Facebook Group
Let me tell you how this came about.
So over 3 beta iterations of The Plan, one thing that a lot of members have been asking for is a community to join where they can ask questions, share strategies or simply brag about their results :)
Finally, one of The Plan members decided to take the initiative and started the group. We now have close to 100 in there, and you get to join us when you sign up!

So what makes this group different from other ones?
For one thing, you've got ME, a founding member.
As a founding member, I was and still am in an exclusive Skype group with Dan along with 10 other early adopters of The Plan. So if there is a burning question that we cannot answer as a group, I can ask Dan.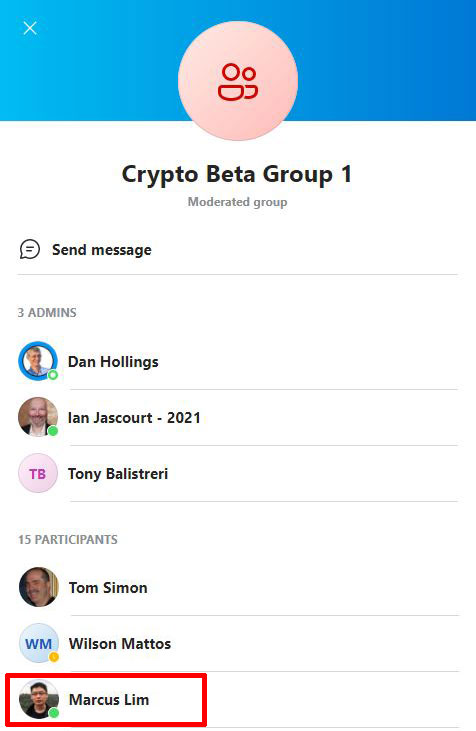 Need I say more?
You have the support of your fellow The Plan members as you share and learn, and also rest assured that you have access to Dan the man (through me) if the need ever arises.
And that's not all! You also get
YOUR EXCLUSIVE BONUS RIGHTS
You have full permission to use this as your own bonus so that the next time you decide to promote The Plan, you will have an edge over other people.
Indeed, every single member in the Facebook group is able to offer group membership as a bonus to entice others to join.
As The Plan will very likely open up a few times a year, this is an invaluable bonus, which gets more and more powerful as time passes because more and more The Plan members will be joining, making it the best community for members of The Plan. It's a win-win for all!
Real World Value: Priceless
Note: This bonus will be made available to you after you purchase and sign the NDA. You will receive an invite to join the group in an email within 24 hours of signing the NDA.
---
Bonus 4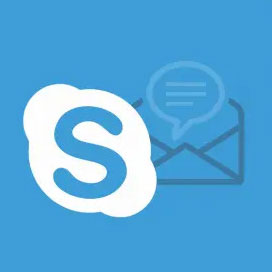 Email/Skype Support (No Time Limit)
If you want to contact me directly with any questions, or if you just want to chat, feel free.
I have members I talk to today who joined in Beta 1...
I don't want to limit the time of this service to 30 days or anything like that because I know that not everyone can start immediately...life happens...and so whenever you start, and you need some help, I'm here...
For instance, consider the following email asking for help from a beta Plan member. Notice how neither Rapid Crush support nor Bitsgap were able to help.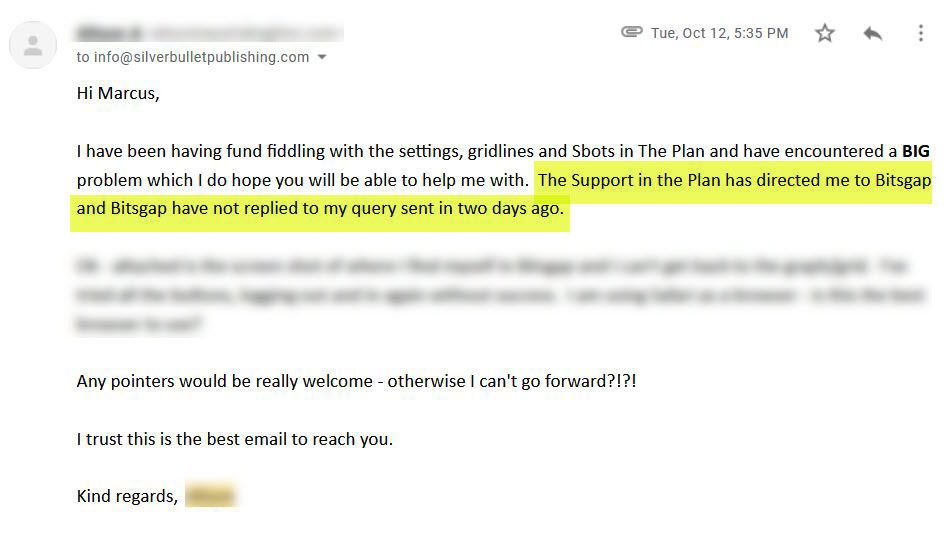 Here's my reply.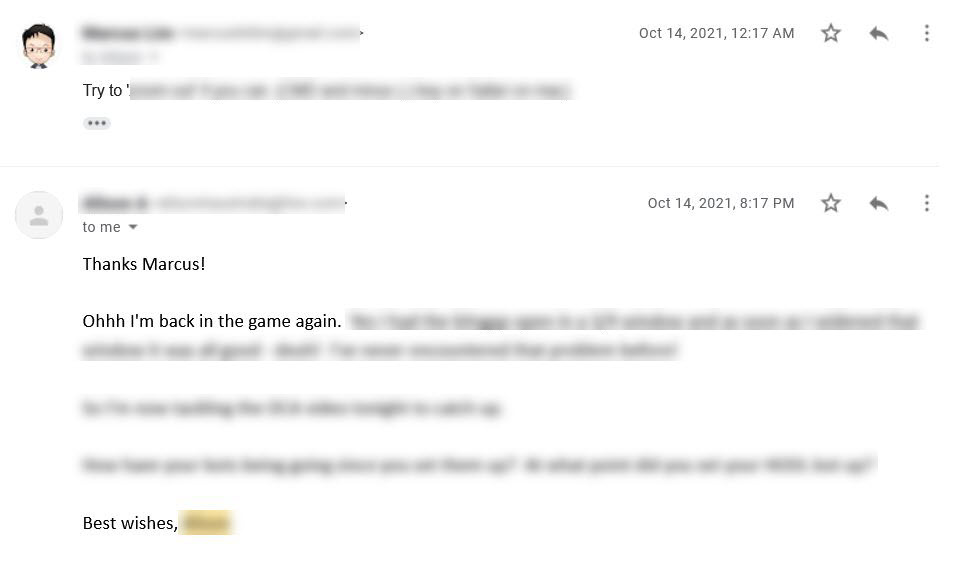 I'm not saying that I'm the expert who knows everything (though as I have been in The Plan longer than most, I probably know a bit more than you).
The point is this - you should always ask the official Rapid Crush support about any question you have. But bear in mind, they are already swamped with requests (there's thousands of The Plan members) and so will not necessarily be able to personally give you the support you need that is specific to your situation (as in the email exchange above).
For those situations, feel free to drop me a line as I may happen to know the answer immediately (as in the email exchange above). So feel free to reach out :)
And don't forget, as a last resort, I do have direct access to Dan Hollings himself!
Note: This bonus has no formal delivery mechanism. Just connect with me anytime (even now if you have sales questions).
---
Bonus 5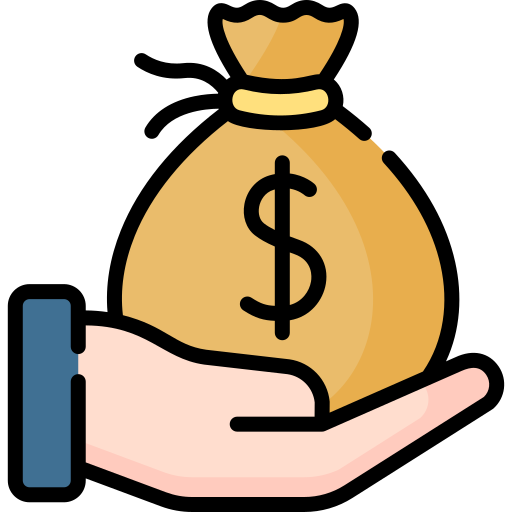 What Am I Doing Besides The Plan?
The Plan is a 'do nothing' strategy for the most part. This means that you set up the bots, then let them run, and do nothing.
That's all good for many of you, I'm sure. But what if you are like me, and want to delve more into the fascinating world of crypto, and extract even more $$ out of it?
See, recently I've been learning about a type of trading that anyone can follow, which works well enough to generate a consistent salary from the crypto markets every day.
Hang on, you say, isn't trading hard? After all, that's why The Plan is so appealing, right?
And the answer is yes...discretionary trading is hard. Discretionary trading takes years to master, and you need to learn a lot about indicators, technical analysis and more.
But the type of trading I am referring to is system trading which is simply a set of rules that even a monkey can follow.
And so for the past few months, I have been learning all about this system which I am more than happy to share with you.
Heck, you can just go and attend the webinar for yourself (it happens live once a week)
But the reason I am telling you all this is because I've started to code up the rules into a bot so it can run all by itself!
I'm happy to share it with you if you so wish...just keep in mind that this is still very early in development, I have no ETA of when it will be complete, but I thought it's cool to share my progress if you are even the slightest bit interested. Feel free to reach out if you have any questions about the system, how the rules work, and I can point you in the right direction if you wish to learn the system manually (note that spreadsheets, documents etc are all provided free). Even though I am NOT officially in the program, I probably already know the system inside out in order to code the bot up :-)
Oh and if you're wondering how the system actually performs on the real market, here's a sample:

Note it only won 47% of the time, but because the win amount is twice the loss amount, overall it still comes up on top i.e. $12k profit after taking 30 trades in this example!
Note: There is no formal delivery mechanism for this bonus. We can talk about it for sure and I can send you everything I have collected (that is available for free but perhaps not that easy to find).
---
What do people say about my bonus?
Check out what some past students of The Plan have told me directly about my bonus videos. Notice how the videos have helped them to solidify their understanding of the lessons in The Plan, which is exactly my intention.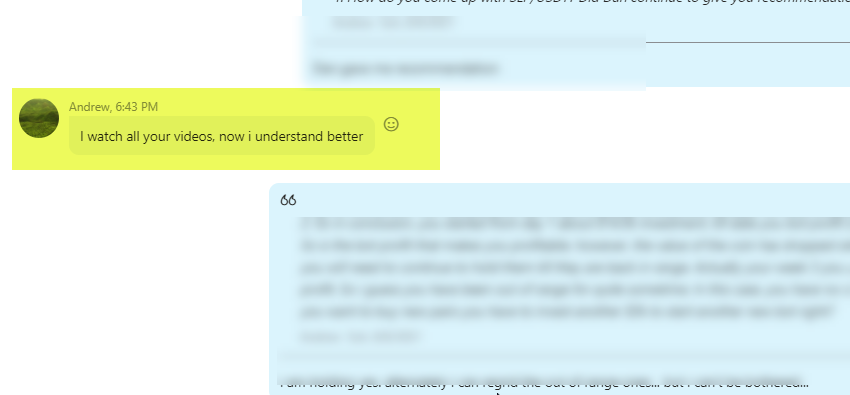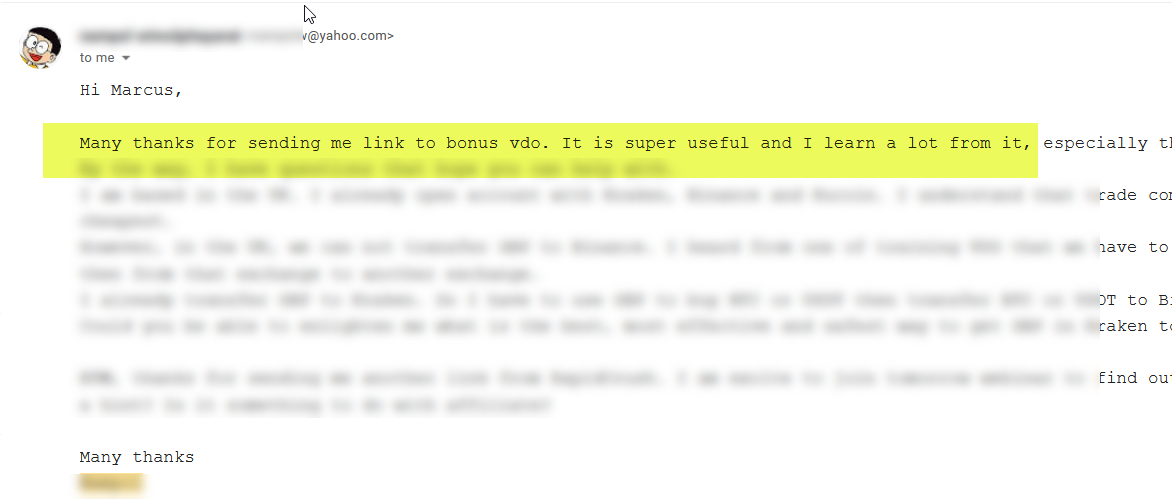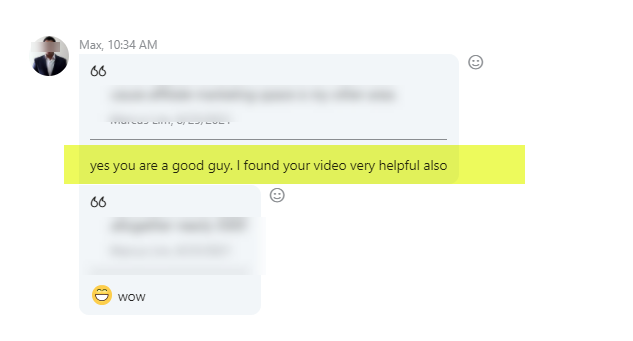 I also want to make a point here, and that is, that none of these bonuses are absolutely essential to your success with The Plan. To be clear, with The Plan, you already have everything you need to generate true passive income with crypto bots. Dan is very comprehensive and leaves no stone unturned so you are in good hands.
So we all know that The Plan already rocks, so my bonus is simply the icing on the cake, to make it rock a little bit more.
My bonuses are meant to remove any perceived obstacle that would stop somebody from joining. I know some of you may be worried about not getting enough support, so the main reason I am offering these bonuses is simply so you don't have an excuse not to join, cause I've got you covered.
How to get all these bonuses:
Click the link below to purchase The Plan through me and I will send over the exclusive bonus (login details will be emailed to you the day of session one to make sure you have signed the NDA). If you have any question at all, hit me up on email: info@silverbulletpublishing.com or skype me (marcus.lim.kiam.hui)
To make sure that you will get my bonuses, check that you see my name as the referrer on the checkout page, as below: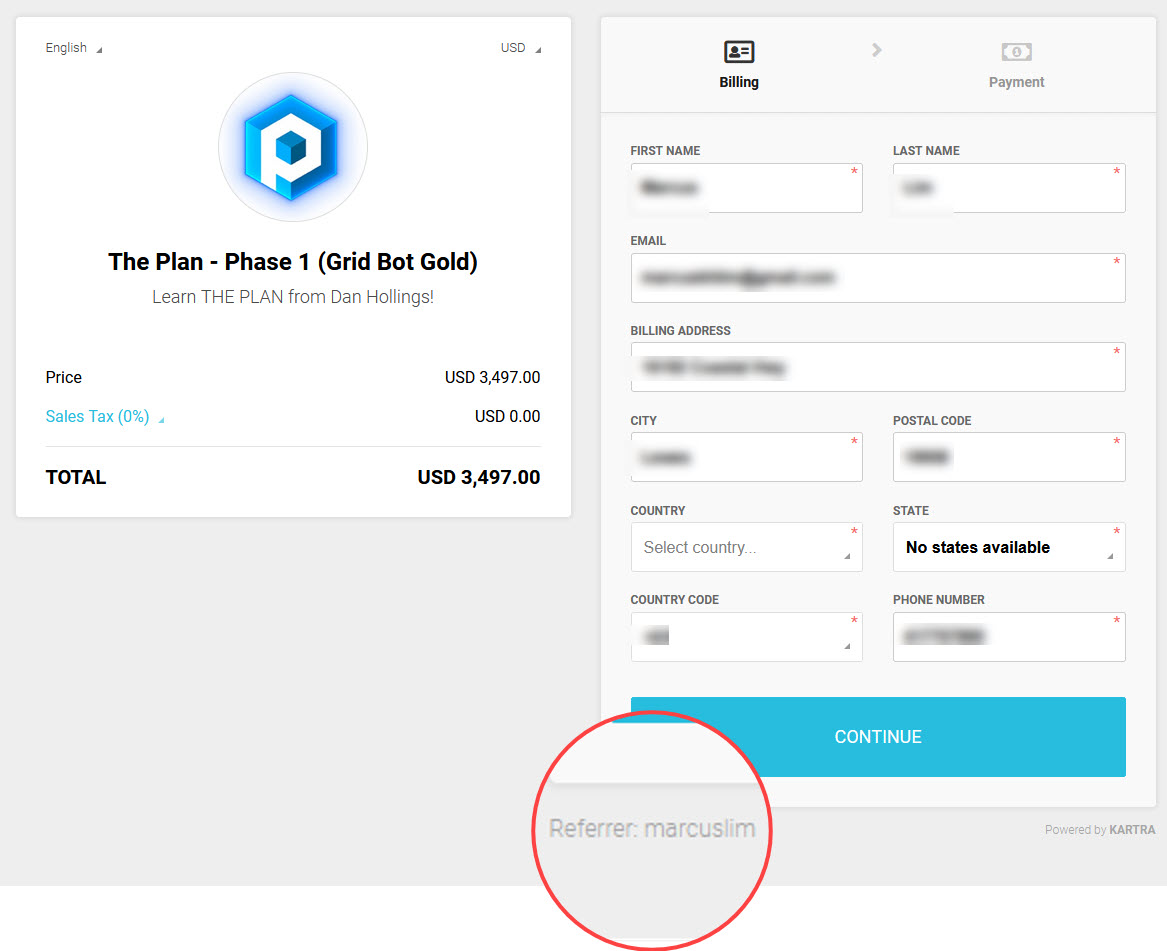 P.S. This bonus is an exclusive bonus that you get only if you purchase Dan Hollings The Plan through me. This is in addition to the bonus by Dan Hollings that everyone else also gets.
P.P.S. If you are still deciding whether The Plan is a good fit for you, then please check out my review.