Social Covers Review
Get paid over and over by helping businesses with their social media makeover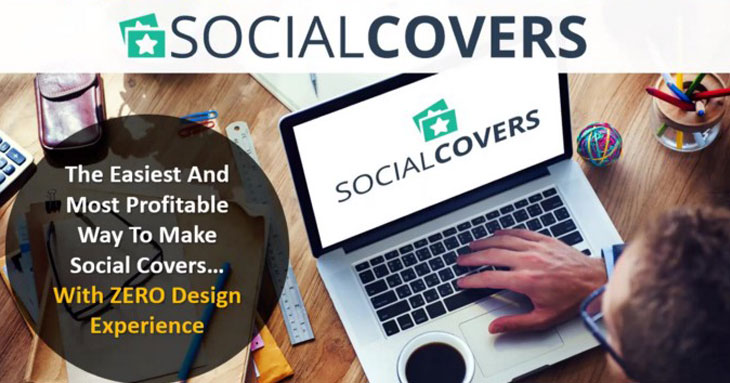 In this review, I will try my best to convey to you the real value of investing in Social Covers by David Sprague.
Those of you reading this will fall into one of two categories — you are a business owner yourself, or you are in the service business looking to help other businesses. If you are in the former category, then this is a no-brainer, read on to discover how to use the software to give your social media a makeover.
Here's the opportunity. It is about selling to local businesses and easily make money in a passive residual manner by offering them a service nobody else is offering. By doing so, you can effectively market a unique micro service inside a billion dollar industry.
Note that the review that follows is written from the perspective of the latter category i.e. someone wanting to help other businesses with their social media makeover. With that in mind, my aim is to let you see the opportunity you have to help out small businesses and get paid in the process. And that's the main point of this review, that Social Covers should be thought of as a business opportunity more so than just a piece of software for creating social covers.
Here's the opportunity. It is about selling to local businesses and easily make money in a passive residual manner by offering them a service nobody else is offering. By doing so, you can effectively market a unique micro service inside a billion dollar industry.
Low Hanging Fruit Opportunity
Consider the following Facebook listing for a local business. What immediately jumps out at you?
The picture! Note that the picture says nothing about the business at all.
What a waste of screen real estate!
It is equivalent to having a billboard with zero information on it, like this -
Question: if you showed the businesses this, what is the reaction you will get from them?
It will no doubt be be an aha moment for them. If you convey this message to your local business prospects i.e. any business with a brand, they will get the problem instantly.
Consider this. People are now searching social media like never before, so the cover is what they see first. And especially now in 2020, with the world in turmoil, and people not knowing if a business is open or not, or what the opening hours are, social covers are extremely important to be able to display this information to their potential customers.
This is where the opportunity lies. You can come in and help out these businesses with their social covers.
Your Opportunity
Social Covers by David Sprague allows you to do the following.
It is a simple idea: "what if you had a way to find businesses that needed your services and created a push button way to create highly engaging social covers in minutes?"
Would that help you get more customers?
You bet!
But perhaps you are thinking to yourself — "I can't sell".
Well, the following strategy that David himself uses doesn't require any selling skill at all.
David's whole philosophy is he doesn't need to sell, he just GIVES.
Stop selling and start giving
So David just gives the covers away as a lead magnet.
Social Covers allows you to create 4 types of covers — offer, branding, rep, celebration.
Which do you suppose is the best type of cover to give away as a lead magnet?
The category of cover that David gives away is either Offer or Celebration.
Why these two? Let's say you give a Christmas celebration cover, well it is temporary, they will need to change it out to a new one when January rolls around.
See what David just did? He got his foot in the door by giving away the free cover, but leaves the door open so they need more.
It becomes an easy sell. It becomes even easier because the software makes it so easy to create covers for multiple platforms including Facebook, Twitter, YouTube, Linkedin in a matter of minutes by pushing a few buttons.
So imagine coming back to the business with the following:
"I wanted to let you know we created the Facebook cover. But we also did a complete social media makeover for you. It's yours for only $499."
When the local business owner sees the rest almost done, will he not say "OK i want them all" ?
Another thing that David does is that he shows side by side the before and after to show the business owner the result of the social media makeover. This becomes an aha moment! They're sold, it's a no-brainer, they see the value.
They see themselves on the left which is a big no-no, and see what they could be on the right, and are instantly sold.
You could go even further with this. David calls this the 10x Residual strategy.
It goes like this. Say to the business owner, "You know how I did that makeover for you for $499? By the way I'd like to do it for you every month."
So they see your rep, offer. For only $299/month (down from $499) but commit to one year.
And guess what? For you, you can automate the whole thing with the software using the cover automation feature. You can do it all in one hour, schedule the posts out over the year and receive monthly checks of $300 a month.
It is literally set and forget a whole year of work! And you collect the check every single month.
It's not the software, it's the strategy
Hopefully at this point in this review, you can see that what we are talking about is not software, it is the strategy that matters. The software simply allows you to fulfill the work in a short amount of time with very little effort. This is the sort of thinking to have when you are considering whether or not to invest in Social Covers.
A simple way to decide is this. If you consider David's strategy above, can you see yourself doing the same thing? Remember, you don't need amazing sales ability, you just need to find a business and give away a social cover to them for free. Then follow up and sell them the social cover set for say, $300. If you do this, you will already be able to get a return on your $300 investment.
To make this process even easier for you, you get a Done For You Biz Contacting bonus to guarantee your foot in the door to landing your first sale.
My opinion is that it is well worth it for the $300. It is a true social media makeover agency in a box opportunity that is wide open especially right now as everyone is searching online. You are helping all these businesses out while getting paid in the process.
To sign up for Social Covers, go here